Blue's room
Room in original " Toile de Jouy"  from 1890
Bed and Breakfast with handmade wallpaper, in the style of "toile de Jouy": it represents traditional scenes of country life in the seventeenth century. Its shades of blue on a beige background gives the space a bucolic and soothing appearance. This original wallpaper is highlighted by the furnishings and decoration made of carefully selected objects.
You will find in this blue room of 18 m² a double bed 160cm, original old parquet, a private bathroom (with shower), and separate toilet.
2022 rate: breakfast included: 1 pers.140 €, 2 pers. 150 € / night, (+ 10 € in July / August / September  , 2 nights minimum).
The "toile de Jouy" is a fabric or wallpaper on which are represented characters with scenery or landscapes. The drawings are mostly monochrome, red or purple (aubergine) on a white background or bistre but can be declined in other colors, pink, light blue or navy, light green or dark or even beige or gray.
We often find in the castles of the late nineteenth rooms with this type of wallpaper.
At Domaine du Buc, this is the only room in which we preserved the original wallpaper because it was in perfect condition. Sleeping in this charming guest room, you will find the atmosphere nineteenth!
We spent three nights with Brigitte at the wonderful Domaine du Buc. From the moment we arrived Brigitte made us feel at home with her kindness , recommendations ( especially the restaurant le table de Marie ) and help. The house is amazing with so much history and warm personality and the grounds are stunning , it is difficult to leave to explore nearby beautiful Albi and surrounding villages. We were given a private tour of the pigeonairre by the lovely Phillip and our only disappointment is that we didn't stay longer. Can't wait to return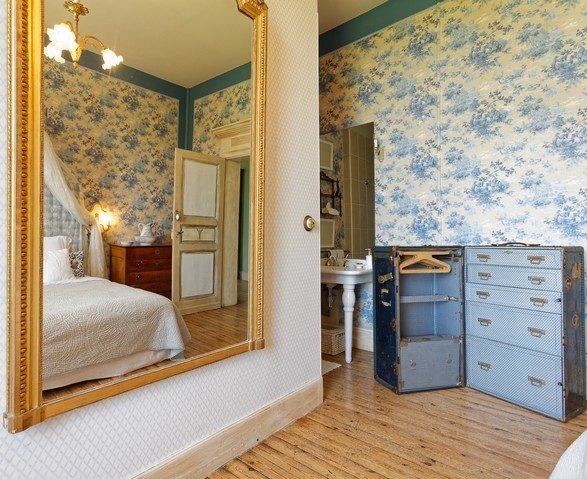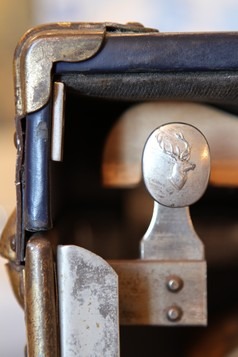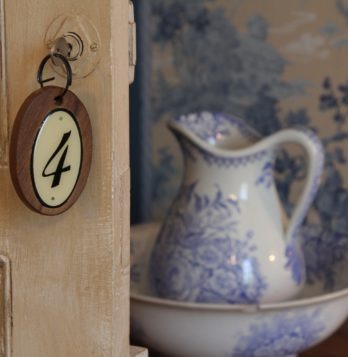 "Bedroom with hand-painted wallpaper, in the purest style" toile de Jouy ""