Demoiselle's room
Formerly, "Twin Room"
The two four-poster beds, which have seen the birth of many of your hostesses at the time when women gave birth to their children at home, are replaced since this season by … two other beds … One, a width 180 cm, surmounted by a lighter and cool baldachin, the other, a comfortable sleeping place. This room has become the family room where three people can stay in a very airy space.
Large room 30m², 3 persons, washbasin, Italian shower, separate toilet.
Rates 2022: breakfast included: 1 pers.:150€/night, 2 Pers. : 160 € / night (170 € in July / August, September  , 2 nights minimum) 3 Pers: 180 € / night (190 € in July / August, Sept 2 nights minimum)
Lovely old family home with lots of charm yet modernised for all comfort. Brigitte made us most welcome and in fact we felt as if we were personal guests in her home. Spacious room with lovely views, quiet, easy parking onsite, plenty of places to sit outside and swimming pool too. Excellent breakfast, kitchen for guests with fridge and everything necessary to prepare snack meals plus plentiful tomatoes from the garden. Large very comfortable bed meant we slept well. Highly recommend this place – we couldn't fault it!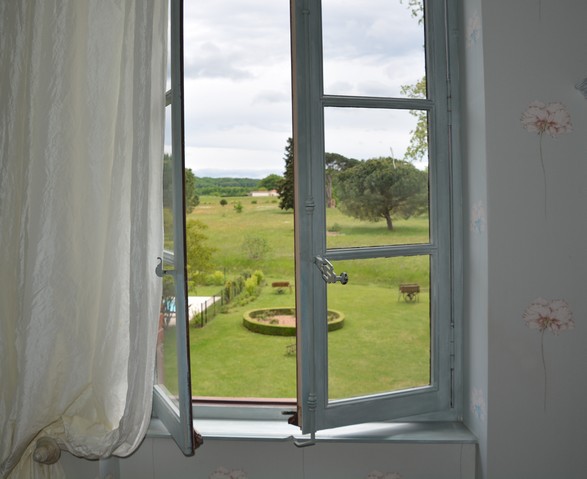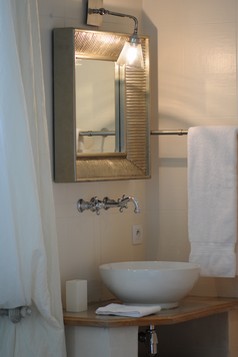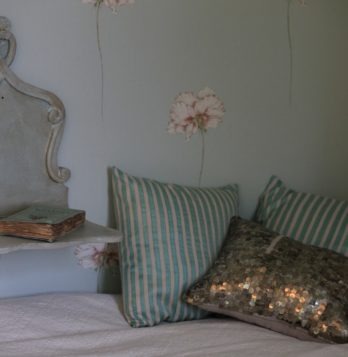 "The fine decoration - which mixes the beautiful things of centuries past with contemporary objects - gives" The bedroom of the young ladies "a character that is both romantic and modern."